As we consider your Health & Safety paramount, it has been necessary to add a temporary charge from £1.50 to each visit. To reduce the number of charges incurred, we would encourage you to add as many treatments into each booking. The temporary charge is due to the additional PPE and cleaning measures, following government guidance, to ensure we keep both staff and clients safe. This charge will be periodically reviewed.
The Vanity Case Beauty Studio is an Award Winning salon that is owned and managed by Karen Shale. Karen began her career in the Beauty industry in 2001 and continues to add qualifications which compliment the industry, some of which include Aesthetics treatments, Life Coaching and The 1:1 Diet Consulting.
After renting rooms in local tanning studios, THE VANITY CASE BEAUTY STUDIO moved to its location in Whetstone Lane, Aldridge in February 2004 and went on to open a second salon in High Street, Clayhanger, Brownhills in April 2017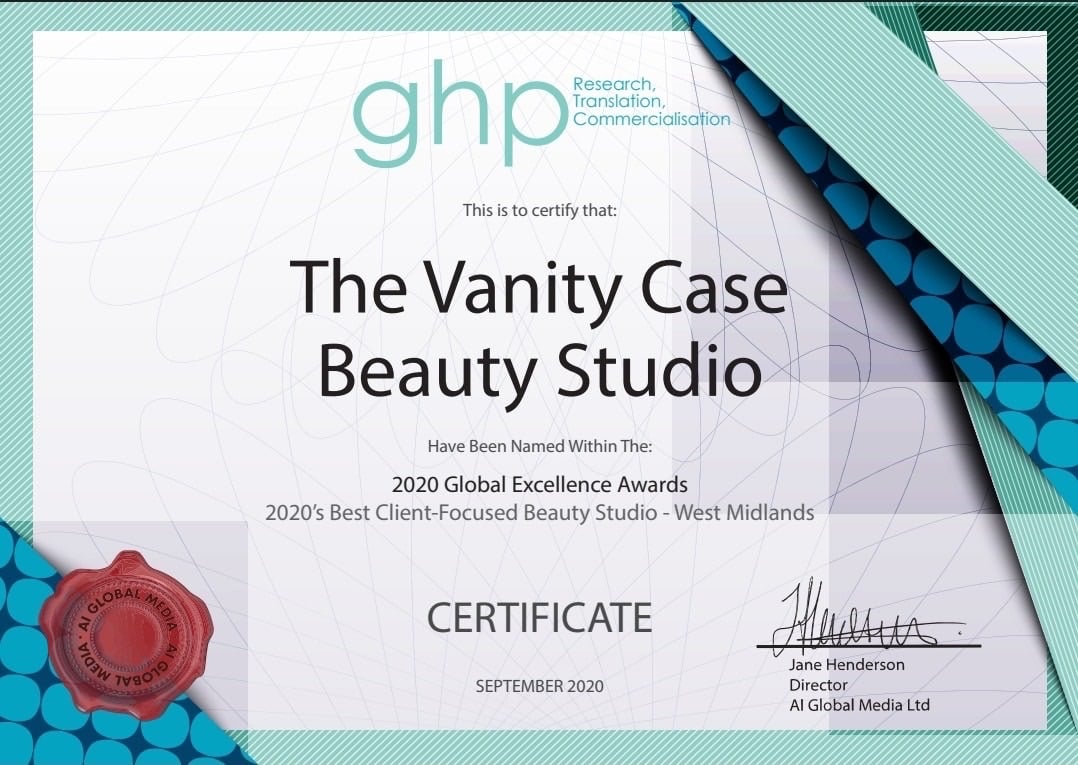 2020 Best Client Focused Beauty Studio - West Midlands
The 2020 Global Excellence Awards have been designed to recognise companies, teams and individuals who are excelling in the ever growing industry......those who set the highest standards by pushing boundaries.
Beginning with a set criteria, as below, and looking at firms that meet or exceed this within the range of industry sectors.....the recipients are handpicked by GHP Magazine, based on the comprehensive analysis and research undertaken by the wider group.
Outstanding client reviews & testimonials
Previous accolades and achievements
Physical and digital presence of a company
Contracts, products and services of note
Commitment to development & expansion
Extracurricular activities & community involvement
💜 Thank you to all the people that have supported the business over the past 20 years.....we couldn't have won the Award without you 💜