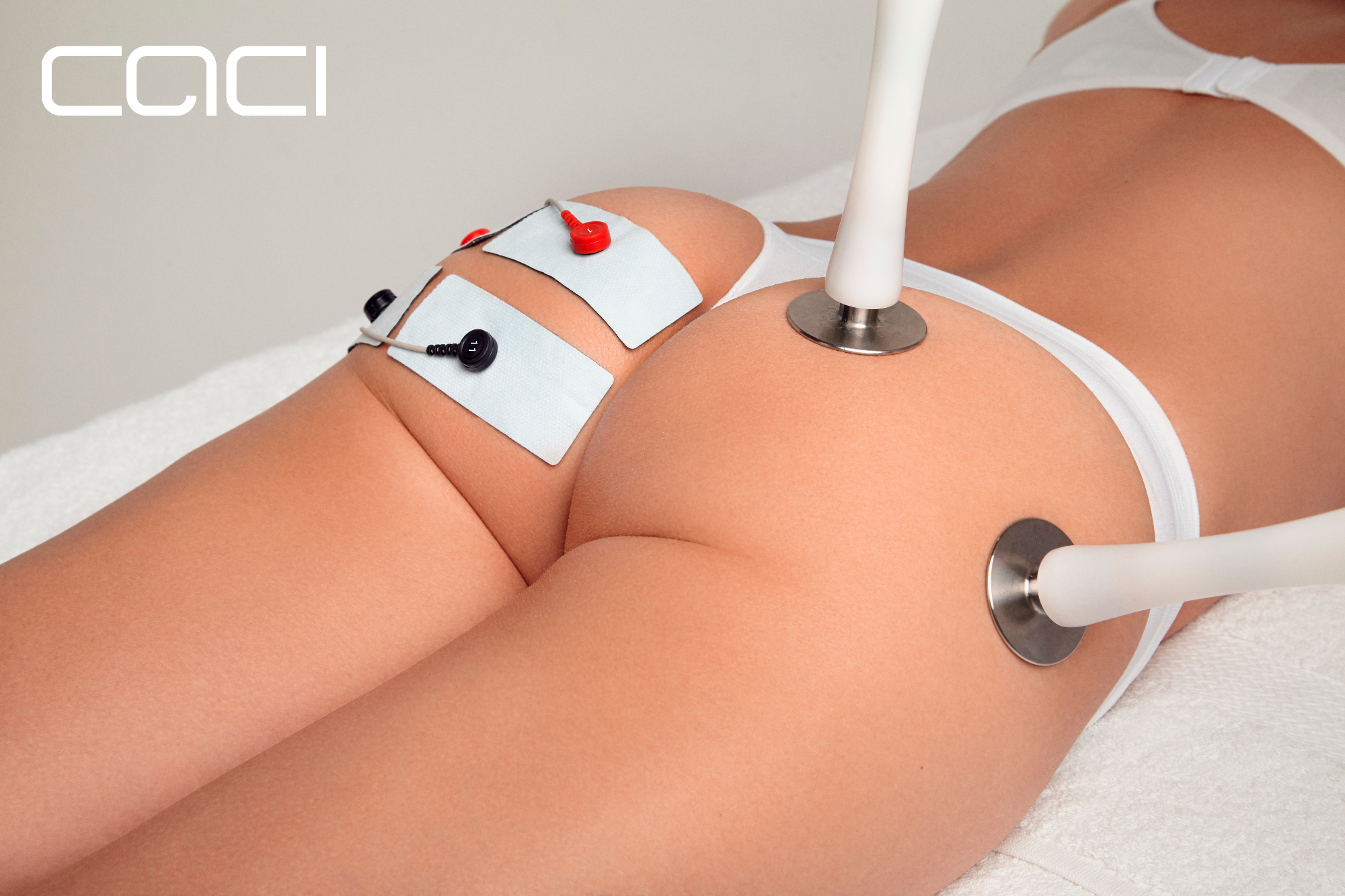 CELLULITE - Cellulite is the term used to describe pockets of fat which are trapped and cause dimpling in the skin. This lumpy dimpling is irregular and patchy and is often compared to the appearance of orange peel.
The thighs and buttocks are the most common areas for a woman to develop cellulite. To treat cellulite it is necessary to stimulate the area in order to reduce the volume of fat that has become stored and to kick start the blood flow and circulation which has become metabolically sluggish.
All CACI systems can incorporate microcurrent technology with an Electro Cellulite Massager (ECM). The ECM attachment combines the therapeutic benefits of massage with the effectiveness of microcurrent therapy.

The unique design of the Electro Cellulite Massager utilises twenty four conductive rollers electrically charged with microcurrent .These rollers are designed to pivot to the body contours of each individual targeting specific problem areas. The stimulatory action of the Electro Cellulite Massager helps to break down fatty deposits, tone muscles and reduce inches.
FACIAL TONING - As we grow older our facial muscles naturally start to lose tone and elasticity. Genetics, lifestyle, weight fluctuation and environmental factors can all influence the rate and degree to which our muscles will lose their tone. As we all know first impressions count and a sagging face can make you look tired, miserable and older than your years. Following over 23 years of research and development CACI International can now offer a non surgical solution to combat loss of muscle tone by using CACI microcurrent facial toning therapy.
Microcurrent therapy was originally developed as a medical application to treat facial palsy and muscle tone was restored by applying tiny microcurrent electrical impulses to the affected muscles. Today this proven technology is commonly referred to as a "non surgical face lift"
A course of 10 treatments is generally recommended, with a monthly top up to maintain results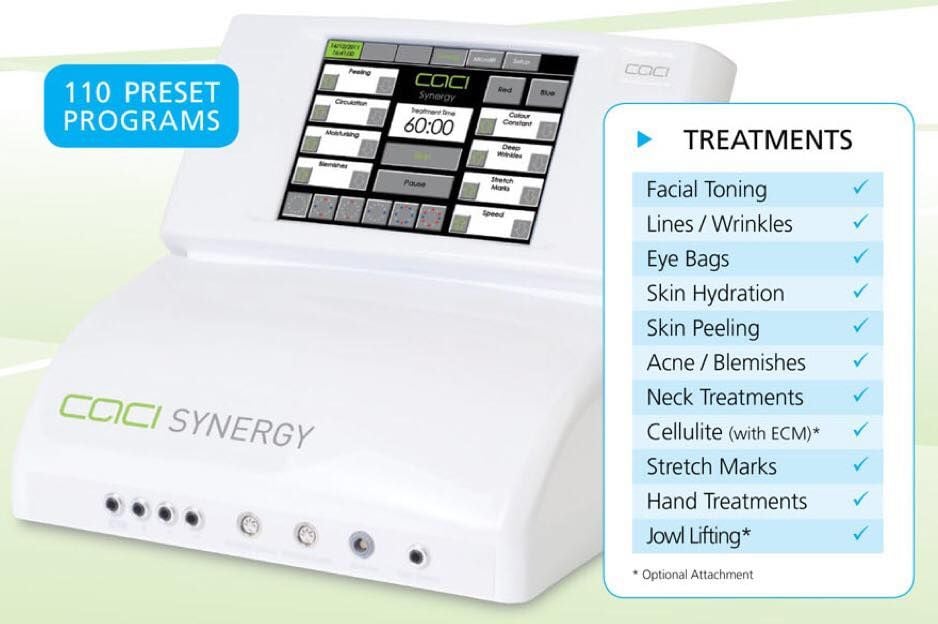 So WHAT IS CACI SYNERGY - SYNERGY is a sophisticated electrical therapy microcurrent, ultrasound and microdermabrasion machine.
The CACI SYNERGY system is a combination of techniques, Microcurrent, Ultrasound, Microdermabrasion and LED Light Therapy and introduces pioneering S.P.E.D microcurrent LED Technology; a breakthrough new advancement in microcurrent therapy.
So what is S.P.E.D Technology? In simply terms it's a Red and Blue LED light with amazing benefits to the skin
For the first time on the market, skincare specialists are able to harness the power of LED light therapy at the same time as using microcurrent. The dual action of simultaneous LED and microcurrent energy stimulates tissue regeneration and helps in the production of collagen. The synergy of these two technologies provides more visible and longer lasting results.

The CACI Synergy offers new S.P.E.D™ microcurrent LED technology, orbital dermabrasion, ultrasonic peeling and CACI's unique Wrinkle Comb (a non-invasive alternative to dermal fillers).

With so many treatment options available, we can now offer a complete range of anti-ageing and skin rejuvenation solutions using just one advanced treatment system.
COURSE OF 10 RECOMMENDED
*CACI - Signature non-surgical face lift - £55
*CACI - Eye Revive - £34
*CACI - Jowl Lift -£28
*CACI - Synergy non-surgical face lift -£85
CACI - Wrinkle Revolution - £30
COURSE OF 6 RECOMMENDED
*CACI - Purifying Facial - £50
CACI - Acne Treatment - £40
CACI - Orbital Microdermabrasion - £38
CACI - Hydratone Mask - £28
CACI - Skin Peeling - £25
CACI - Bum Lift - £35
Pre pay for a course of 6 or 10 treatments and receive 1 treatment free.
'Add ons' can be included with any of the five Main Treatments*. Ask a member of the Team for more details.