Medik8 chemical peels are professional-grade exfoliating acids applied to the skin with a small precision brush to help resurface and retexture the skin, helping to address a wide range of skin concerns including signs of ageing, pigmentation, redness, acne and breakouts as well as helping to improve scarring, photodamage and hyperpigmentation; or even give you a radiant glow before a big event or occasion
Medik8 is an award winning, global skincare brand sold only by skincare experts. Peels can cause some mild discomfort and temporary redness; dependent on the strength of the peel you have chosen. Above all else – relax. The peeling process provides you some valuable me-time, so enjoy the peace and allow yourself to switch into relaxation mode. After all of our peel protocols, we apply Ultimate Recovery™ Bio-Cellulose Mask to rapidly cool, restore and soothe the skin.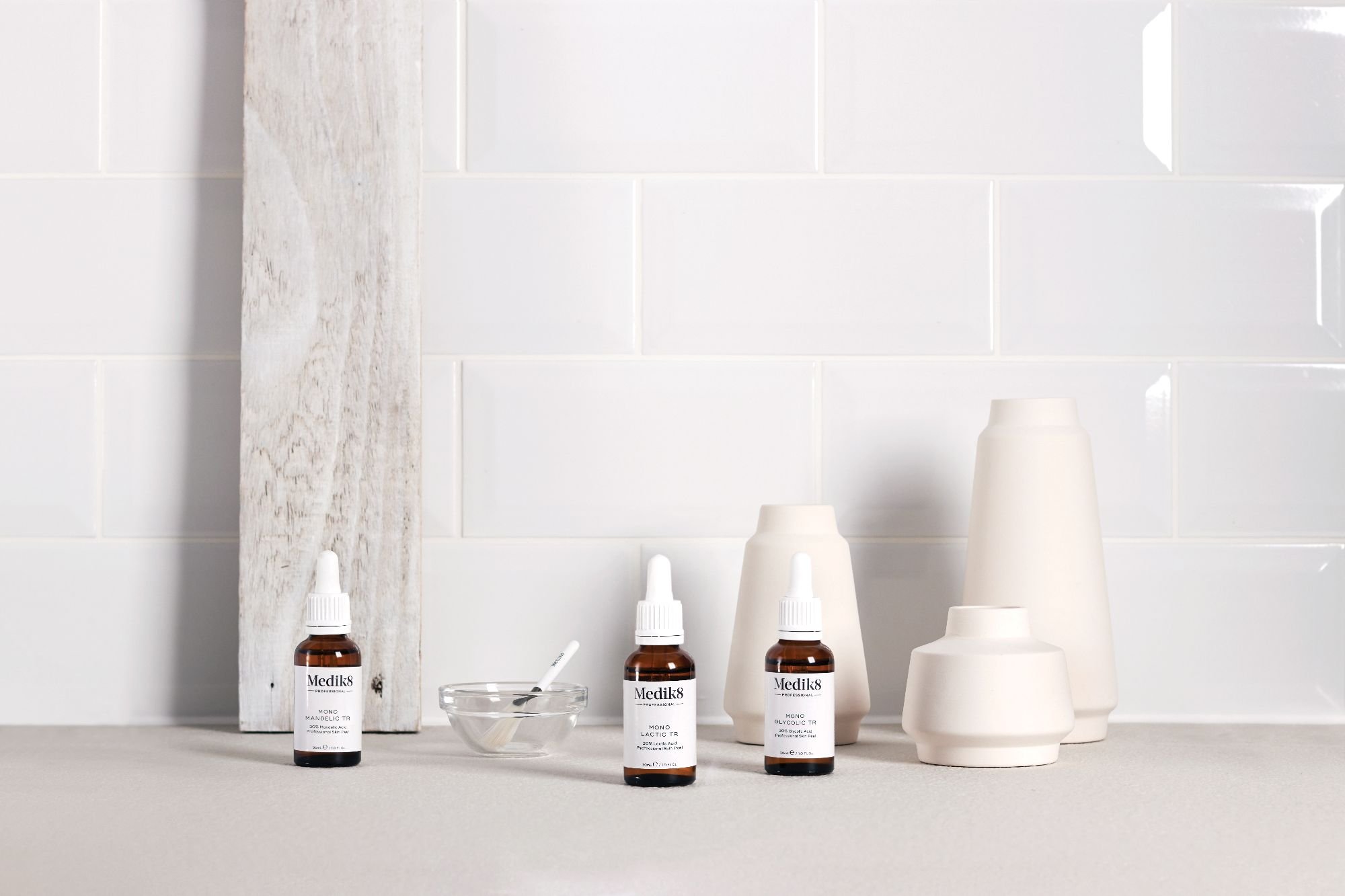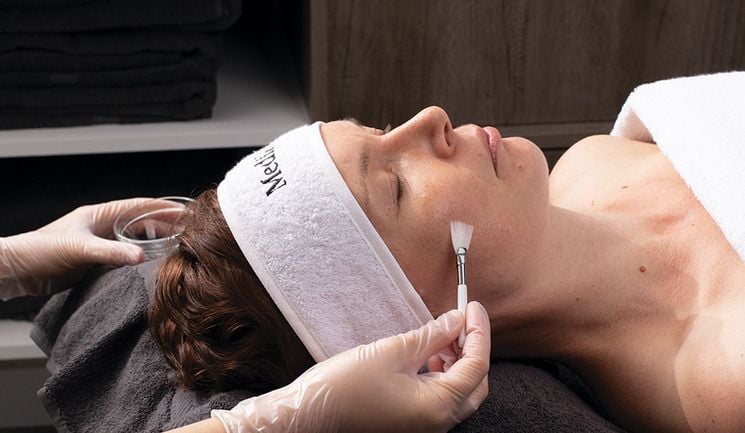 Patch test is required 2 weeks prior to your first chemical peel
Rewind - A targeted formulation that helps to promote collagen production to reduce the appearance of fine lines and wrinkles - £75
Universal AHA - Suitable for everyone and any skin concern, it visibly brightens, smoothes, decongests and revitalises the skin. Ideal for a first-time peel or to maintain results from other peels - £75
Even - A brightening peel targeting sun damage, hyperpigmentation and dull, uneven skin. Helps to restore a more even and radiant complexion - £75
Sensitive PHA - A new addition for extremely sensitive or redness-prone skin to visibly smooth skin texture and help promote stronger skin barrier - £75
Clarity - A powerful blend of acids that sink deep into pores to effectively clarify and decongest the complexion. Rapidly brings blemishes under control and dramatically reduces the risk of future breakouts - £75
Eye Reveal - A peel specifically developed to correct concerns such as crows feet and dehydration lines surrounding the delicate eye area. An ultra-gentle yet effective solution to target signs of ageing around the delicate eye area to helps to trigger collagen production, smooth over texture and minimise fine lines and wrinkles - £65
Mono Peels - We also offer a single-acid peels for extra-tailored care - £75


Mono Mandelic TR - 30% Mandelic Acid Professional Skin Peel.
Mono Lactic TR - 30%, 50% Lactic Acid Professional Skin Peel.
Mono Glycolic TR - 30%, 50% Glycolic Acid Professional Skin Peel.
All Skin Peels include a Skin Analysis with the Observ 520 Skin Analyser.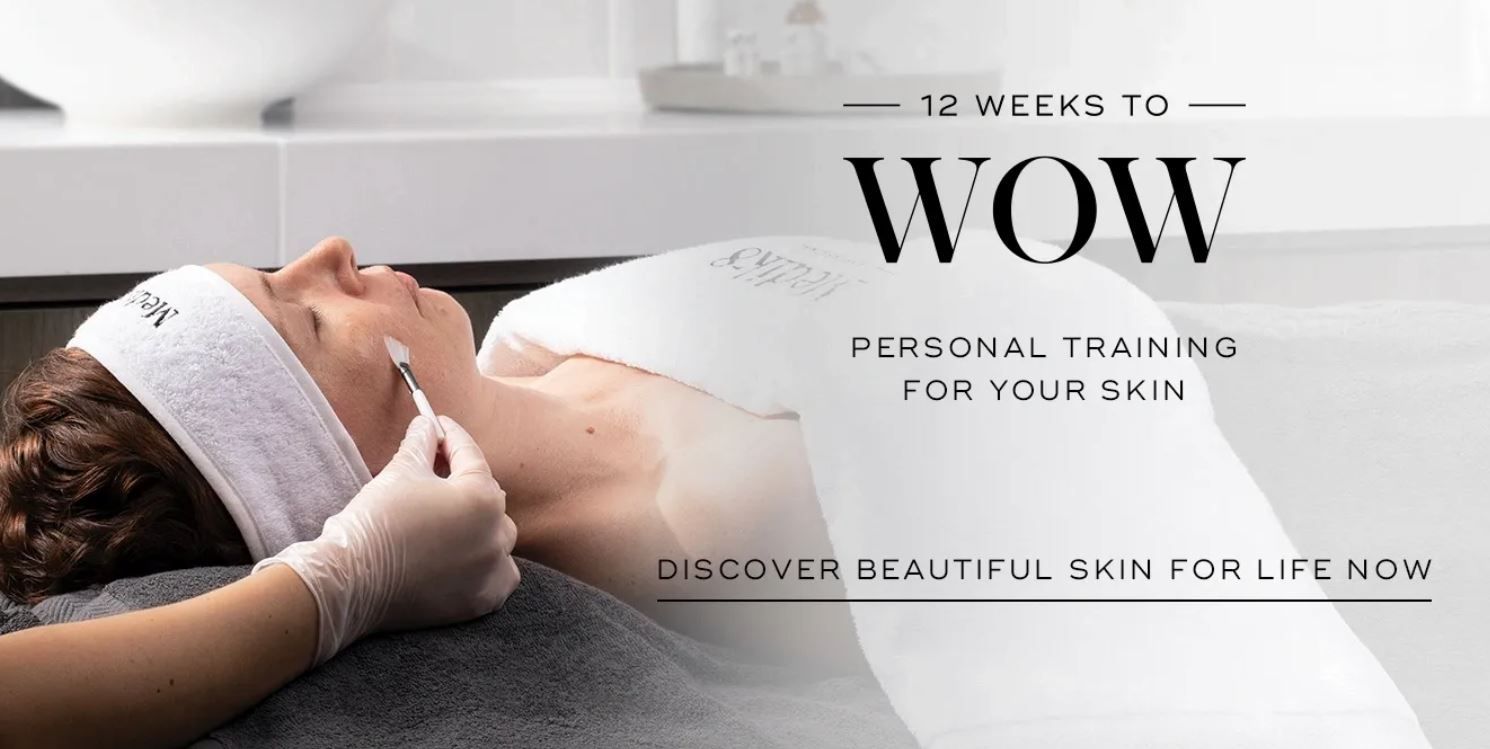 What is it all about? - Basically: Personal training for your skin. In the same way, you might regularly visit a Personal Trainer for fitness. Combining six Medik8 professional in-salon peels tailored to your skin goals, plus an at-home daily skincare routine, prepare to be wowed.
Imagine what your skin could look and feel like 12 weeks from now. Using the best available active skincare ingredients at home coupled with a bespoke combination of regular Medik8 peel treatments, your best ever skin could be right around the corner.
So what do I do? - Meet regularly with your very own Medik8 accredited therapist who will prescribe a full at-home and in-salon regime and enjoy a remarkable skin transformation at the end of the 12 week course*; your 'WOW' moment.. There is the opportunity to maintain those results for life. Sound good? Click the Book Now button
What Results Can I Expect? - 24 hours post-peel your skin will likely feel a little tight and appear slightly flushed. Within 3 days your skin will start to flake, but within the week you will start to see clearer, more uniform skin tone. Over a course of 6 peels, results will be even more visibly profound.
Your therapist will take before and after pictures of you using our Observ Skin analyser and document your journey in your 12 Weeks to WOW Passport to track your skin's improvement across such parameters as wrinkle depth, clarity, water content etc; dependent on the skin concern you are treating.
Can't I Just Have One Peel To Improve My Skin? - It is possible to just have a single peel, but we recommend a course of 6 to really see the long-term skin benefits. It's a little like going to the gym; you can go occasionally but the real results will come when you commit to an ongoing programme. We make starting your peel journey really easy with the 12 Weeks to WOW programme.
How Much Is It? - Prices for a 12 Weeks to WOW programme including homecare aftercare kit from £490 but it truly depends on the bespoke programme designed for you alongside your Medik8 therapist.